Our prices
Prices for Rooms - per person per night
Room Type A
B&B / Night per person

22.12.23 - 14.01.24

26.01.24 - 07.04.24

EUR from 92,-

15.11.23. - 21.12.23

15.01.24 - 25.01.24

08.04.24 - 01.05.24

EUR from 80,-
Room Type B
B&B / Night per person

22.12.23 - 14.01.24

26.01.24 - 07.04.24

EUR from 101,-

15.11.23. - 21.12.23

15.01.24 - 25.01.24

08.04.24 - 01.05.24

EUR from 89,-
Room Type C
B&B / Night per person

22.12.23 - 14.01.24

26.01.24 - 07.04.24

EUR from 121,-

15.11.23. - 21.12.23

15.01.24 - 25.01.24

08.04.24 - 01.05.24

EUR from 111,-
Prices for Apartments per night
Apartment Seekarspitz
2 persons

3-4 persons

22.12.23 - 14.01.24

26.01.24 - 07.04.24

EUR from 220.-
upon request

15.11.23. - 21.12.23

15.01.24 - 25.01.24

08.04.24 - 01.05.24

EUR from 210.-
upon request
Apartment Hundskogel
2 persons

3-4 persons
5-6 persons

22.12.23 - 14.01.24

26.01.24 - 07.04.24

EUR from 220.-
upon request
upon request

15.11.23. - 21.12.23

15.01.24 - 25.01.24

08.04.24 - 01.05.24

EUR from 210.-
upon request
upon request
Offers
Powder weeks
Welcome to midwinter. Enjoy the sounds of the fresh powder snow crunching beneath your skis or snowshoes. Spend a dream holiday of 5 or 7 days with us at Central B&B in Obertauern in the idyllic Alps.
for 2 persons from EUR 800.-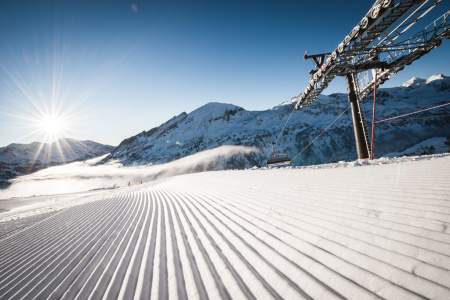 Conquer the slopes
The spring sunshine makes the snow sparkle like thousands of crystals. Spend 5 or 7 lovely days with us at Central B&B in Obertauern and bask in the gentle sunshine of early spring.
for 2 persons from EUR 760.-
Important booking information
All prices for rooms are in euros and are per person per night.
All prices for apartments are in euro and are per night.
Prices vary for stays of more or less than one week (7 nights).
Prices do not include local tax of EUR 2,45 per person per night. All guests aged 15 and over are obliged to pay visitor's tax (children under 15 are exempt).
Pets are not permitted.
We are a non-smoking establishment. Smoking is only permitted on the balcony.
Your room will be ready for you from 3 p.m on the day of your arrival.
On your departure day, we kindly ask you to vacate your room by 09:30 a.m.
Payment:
To secure your booking, please pay a deposit of 30% of the estimated total within 14 days of booking and specify your name and booking dates. Payment of the outstanding amount can be made by bank transfer prior to arrival or by card (Visa, Mastercard) or in cash upon departure.
Cancellation:
In case of a cancellation arise to you:
till 30 days before arrival we charge you € 30,- preparation fee
30% cancellation fee 29 till 7 days before arrival
70% cancellation fee from 6 days before arrival
90% cancellation fee by not arrival
You can have your deposit credited to a new specific booking. If you don't arrive the cancellation fee applies again.
The general terms and conditions of the Austrian hotel industry apply.
We recommend travel cancellation insurance.